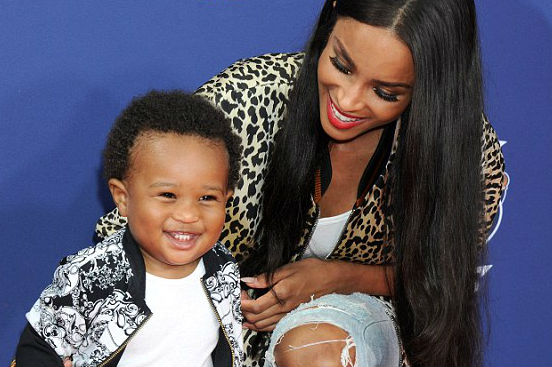 With a hit record on the market and invitations to tour the country, Ciara is one busy woman. The 'I Bet' singer discusses her schedule with Vogue Italia.
"My work schedule is so hectic sometimes, that that mommy time is the most valuable time that I have," shares the star. "When I'm with my son I can zone out and just focus on him. I love going out to eat with him – it's really fun . He sits down in his little chair and I put down his little plastic table mat with squares, circles and triangles on it. And we play and call out the colours of things – it's super fun. I love taking him to Gymboree classes. In these classes they do music and really cool exercises for kids. Plus they get to socialize with other kids. I'm like a big kid in there; I'm playing with everybody. It's like, one of my highlights being able to spend that simple time with him."
Spending time with little Future has also brought a few things to Ciara's attention. "He loves music, he loves to dance," says the singer. "He smiles a lot when he hears a certain kind of sound." The celebrity mom further explains, "I've always been singing to him since he was born. One of the songs on my album, I Got You is dedicated to him, and he's on that song. So I think he definitely has a natural connection to music, so I don't know where that will go in a couple of years from now. But I often sing I Got You to him, and then I just make up a bunch of stuff – I just freestyle sometimes."
Future Zahir is Ciara's only child with ex-boyfriend Nayvadius Cash. He celebrated his first birthday in May.