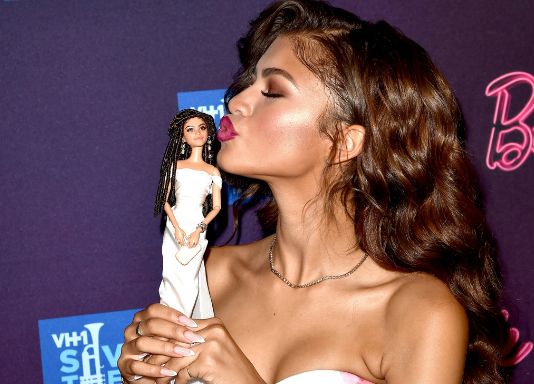 The Zendaya Barbie doll is here! Zendaya Coleman debuted her very own Mattel figure this past weekend. The actress held the doll high while giving it a kiss at the Barbie Rock 'n Royals concert at the Hollywood Palladium on Saturday.
"When I was little I couldn't find a Barbie that looked like me," shared Zendaya with Instagram fans. "My… how times have changed," added the star. "Thank you @barbie for this honor and for allowing me to be apart of your diversification and expansion of the definition of beauty."
Mattel decided to create the Zendaya doll, fashioned after the Disney star's look at this year's GRAMMY awards, a few weeks ago. The action figure has long dreadlocks that resemble the extensions that Zendaya wore to the ceremony and an off white gown that looks like the young star's GRAMMY dress.
Coleman told fans that she was "excited to be a part of the new direction the Barbie brand is headed," shortly before the brand debuted her doll. You can expect to see the figure on toy store shelves throughout the nation during the Christmas season.
Photo: Getty Images