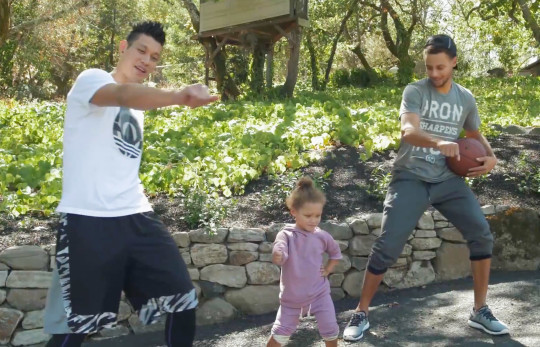 Jeremy Lin is learning the essence of coolness from Riley Curry. The NBA star recently conducted a hilarious video that featured Riley along with other star athletes.
Jeremy tells his fans that fitting into the culture of professional sports is sometimes difficult. "It's taken me a while to become this cool," says Jeremy near the end of his video. He continues, "It shouldn't be that much of a problem to fit in with my new Charlotte teammates." Of course, Jeremy doesn't "fit in" as his efforts to be the cool kid are met with blank stares from veteran players.
Still in all, little Riley shows him a few of her best dance moves. She grooves to Silento's 'Watch Me (Whip/Nae Nae)' while Jeremy and her dad Stephen Curry try to catch on to the moves. Stephen admitted to media that his daughter taught him how to do the famous dance a few months back. Watch Riley teach Jeremy below!