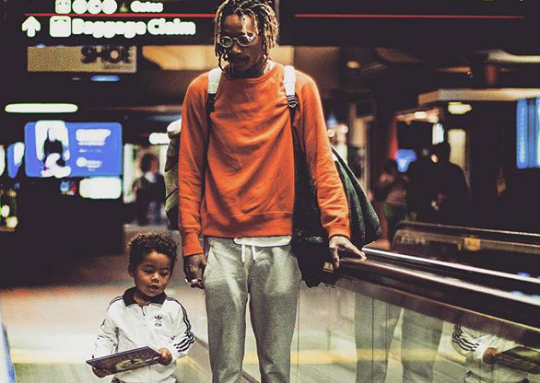 Wiz Khalifa gave fans at his old alma mater a pleasant surprise this past Tuesday. The rapper made a special appearance at Taylor Allderdice High School in Pittsburgh, Pennsylvania, and had his son, Sebastian, in tow.
Khalifa and little Bash started out early at the airport. The little one had his book and apple juice to get him going, while Wiz carried all of the essentials needed for the trip in his backpack. "Startin early," shared the rapper along with a picture of him and Bash walking through the airport. "My partner," wrote the star.
Students and teachers at Taylor Allderdice High School were delighted to see Wiz return to his hometown and donate $45,000 worth of backpacks to young scholars. "I love my school, I love Pittsburgh, and I love being able to spread some positivity and give the kids hope," said the artist. "It's always good to push people forward in whatever they do." The celebrity father told media that his generous donation was "just another way of encouraging people to do what you want to do, live in the moment, and have fun."
Wiz Khalifa has one child with ex-wife Amber Rose. Sebastian celebrated his second birthday earlier this year.