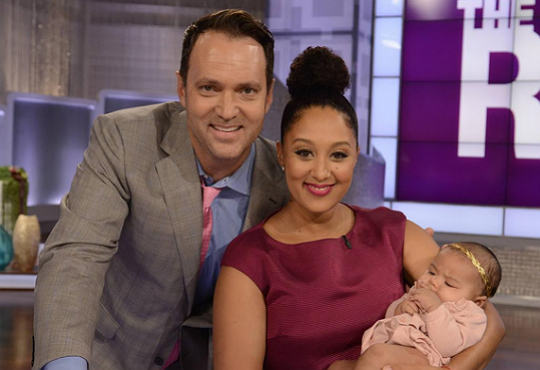 Ariah Housley is melting the hearts of many. The 2-month-old recently made her television debut on The Real with mom and dad by her side.
Tamera and Adam Housley couldn't help but gush about their newborn. "She is so loving," shared Tamera with audience members. "She has the calmest spirit. I swear you guys, she's like such an old soul. She is such a blessing."
Adam also talked about his daughter. "She definitely takes after her mother, thankfully," said the FOX correspondent. "[She's] still kind of mommy's girl because she has to be with mommy so much. But she always falls asleep in my arms," added Mr. Housley.
The celebrity couple welcomed their daughter in July, and recently introduced her to PEOPLE magazine subscribers. "It seems like just yesterday, I was waiting for Ariah to make her appearance into the world," wrote Tamera in a blog post about Ariah's editorial showing. "Not going to lie, I loved keeping her all to myself. But when People Magazine asked if they could take part in her unveiling, I couldn't say no."
Ariah is Tamera and Adam Housley's second child. The couple also have a son named Aden who will celebrate his third birthday in November.