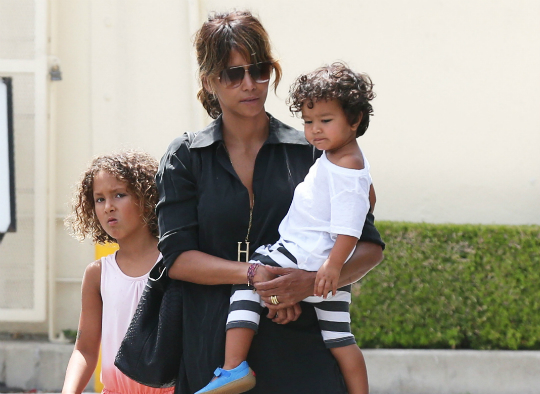 Halle Berry spent the day with her kids on Tuesday. The actress was spotted out and about with her son, Maceo, and daughter, Nahla, in Los Angeles, California.
Berry and her kids enjoyed lunch at Sunset Plaza on September 1, 2015. The actress was casually dressed in a black outfit, and her kids were also informal with their attire. Maceo was carried by mom for the majority of the outing while Nahla walked behind Halle. The little one held a stuffed animal, that matched her vibrant dress, while crossing the street with her mom and brother.
Halle has been hard at work on the set of Extant. She is the star character who moves the incredible story line along in the series.
Although she has been away from the big screen these past few months, Berry will make her return to the movies in the thriller Kidnap, which is set to premiere in February 2016. The actress will portray a mother who stops at nothing to get her son back after he is abducted. Christopher Berry and Malea Rose will also star alongside Berry in the film.
Halle Berry has one child, Maceo, with husband Olivier Martinez. Nahla is the celebrity mom's daughter from a previous relationship.