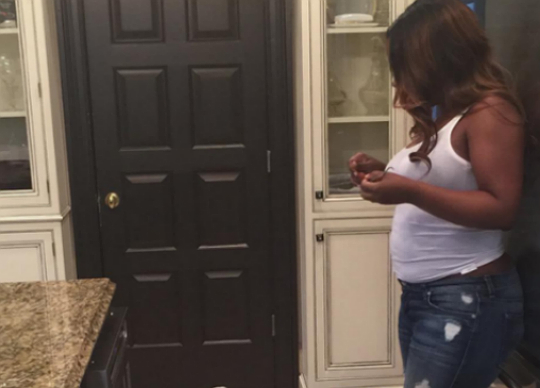 Real Housewives of Atlanta star Kandi Burruss was recently photographed by her husband, Todd Tucker, while feeding the family's pets. "Georgia, Bronx, @kandiburruss and Baby Tucker," captioned Todd underneath the picture.
Todd and Kandi are  expecting their first child, a baby boy, to arrive in January. Burruss recently told media that she and her husband were "ecstatic. We've been looking forward to this moment."
She also told fans to expect to see her and Todd's pregnancy journey during season eight of Real Housewives of Atlanta. "We just started taping," said Burruss of the reality show's upcoming installment. "Obviously you will get to see a lot of our journey through this pregnancy, but other than that it will be drama as usual."
Although the Tuckers have known about their child's gender for a few weeks, they haven't decided on a name for the little one just yet. "We're taking suggestions," said Burruss.
This will be Kandi and Todd's first child together. The couple currently parent two daughters together.