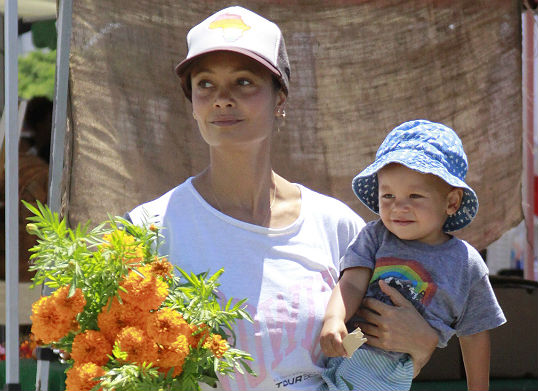 Here's a mother-son duo we haven't seen in a while. Thandie Newton along with her son Booker and husband Ol Parker were recently spotted while at Farmers Market in Los Angeles. The celebrity mom was all smiles while carrying her son around the venue. Thandie even let Booker pet one of the animals at the market.
Newton has two daughters in addition to son Book. Although she has been characterized as one of the most beautiful actresses in Hollywood, Thandie has said that her children make her feel attractive. "I didn't really feel beautiful until I had my first child," shared Newton during a recent interview. "I knew that I was considered People magazine's Most Whatever, but all that stuff is just how we label different groups. And I've been very not beautiful in my life. There's no way I was beautiful growing up."
She further explained, "I was the person that I am, but in a small town in Cornwall I was not perceived as the person that boys wanted to go out with. And that has a very strong effect on a young girl. But once I'd figured out that there were different boxes for different types of beauty, that it was like a language, I got smart about using it."
Thandie and Ol Parker have three kids together.