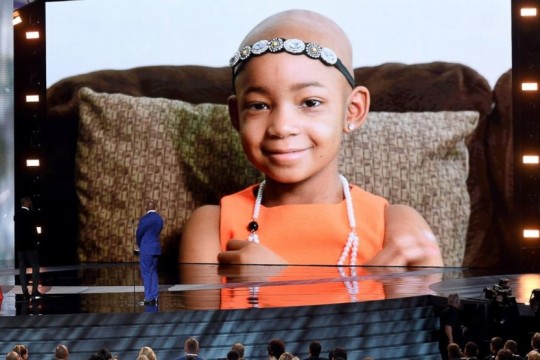 Cincinnati Bengals defensive tackle Devon Still  accepted the Jimmy V Perseverance Award on behalf of his five-year-old daughter Leah during last night's ESPY Awards. Leah, who did not attend the ceremony because she is recovering at home from chemotherapy, has battled cancer over the past year.
"I remember the first week in the hospital, I would sneak out [of] the room and I would go down to the chapel and I would just cry," Still said during his acceptance speech. "I would just ask God why did he give my daughter this fight, and I would beg him to give me the fight with death rather than my daughter."
He continued, "We had two options. We could have lost faith and just let this battle with cancer get the best of us, or I could give my daughter's battle with cancer a purpose, and use my platform to try to raise as much awareness as possible."
After expressing his appreciation for kids who are fighting cancer, his fiancée, and his parents, Devon thanked his daughter.
"I know you wish you could be here, but I know you're watching," he said. "I just want to thank you. From the moment you [were] born, you molded me into the man I am today. I always used to dream about how I was going to be able to show you so much about life, but in the five years I've been with you, you've taught me more about life than I could ever do."
Though she could not be in attendance, Leah managed to tape a video prior to the broadcast. In the footage, she thanks everyone for supporting her. "Sorry I couldn't be here everybody, but thank you for supporting me while I deal with cancer," she said.
The Jim Valvano Award for Perseverance is awarded annually at the ESPYs, and is given to a person in  sporting community battling with cancer.
https://www.youtube.com/watch?v=UqAdMPYaLzo