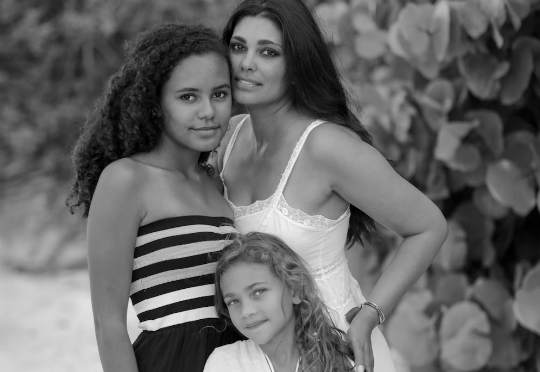 It wasn't until she became a parent that Rachel Roy realized the importance of self-love. The designer tells Romy & The Bunnies that mothering Ava and Tallulah has given her the strength to love herself in a way that she didn't think was possible.
"Having my daughters shaped me into the woman I was meant to be," says Roy. "Because of my love for them I began to love myself in a way that should have been taught to me in childhood. Having them made me want to live up to all that they deserved in a mother and in an example of a woman. I'm living my life to set an example for my daughters so that–when they see my struggles and successes–they know they can achieve their own goals."
Accomplishing goals is one of the reasons why Rachel moved from New York to California. "I had an inner voice telling me to move out of Manhattan and head to the ocean for about three years before I actually did," shares Rachel of her decision to move the family to Los Angeles a few months back. "Southern California is a great place to be in fashion and easily maintain my business, yet give my daughters a backyard, garden, a pool to play in, and their own rooms," adds the designer. "I could not afford to do that in Manhattan like I can in L.A."
Making tough decisions is an aspect of motherhood that Rachel has learned to cope with, thanks to the counsel of loved ones. "What I have learned with time and from those around me is that the paths that seem the hardest to take can lead to peace and opportunities that surpass anything I could have ever dreamed of."
Rachel Roy has two kids with ex-husband Damon Dash. Tallulah celebrated her seventh birthday on May 14, 2008. Ava will turn 16-years-old in December.