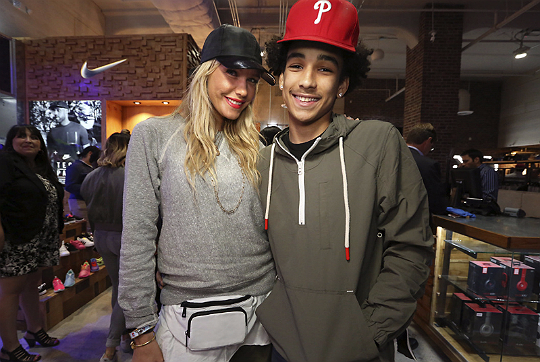 Shiekh Shoes took over downtown Los Angeles last week as it opened another one of its high-end stores on Broadway Avenue. Several celebrities attended the exclusive debut event that showcased one of a kind shoes and decorum that was simply unforgettable.
Tyson Beckford's son, Jordan, was one of several celebrity kids to attend the opening event with his mom. He along with the others had the distinct pleasure of viewing the illuminated 6'6″ number twenty three wall that was placed in the store in honor of Michael Jordan. Attendees also got to see the Cool Grey 11 and Chicago 1 shoes that were pulled from Shiekh's vault especially for the event.
Tyson Beckford and star athlete Victor Cruz serve as ambassadors for New York Fashion Week's segment for men. "We had it years ago," shared Tyson of the event's return to fashion week. "I walked in it maybe about ten years ago. So it took a break and then it's come back."
Victor Cruz also commented on the upcoming fashion show reserved for men's wear. "I think it's grown over the years," shared the star with TODAY. "Men's wear is outselling women's wear right now, and that just goes to show you how men are paying attention to fashion."
See more pictures of Sheikh's newest store below!
Photo: Jeremiah Lazo