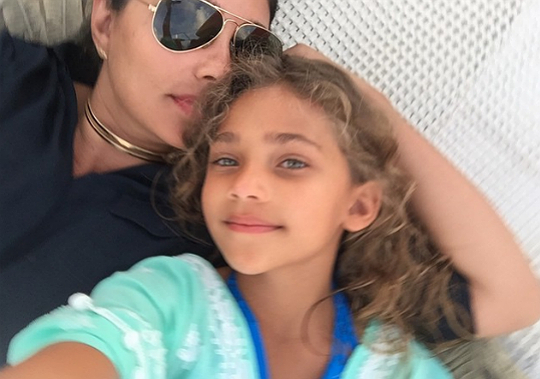 Rachel Roy and her daughters, Ava and Tallulah, are engulfed in a sea of love and beauty as they enjoy vacation in Bermuda. The celebrity mom recently shared pictures from her and the girls' trip.
"Sea of Love Selfie," captioned Roy underneath one picture of her with Tallulah. The designer sat back while her daughter held the camera and took a nice picture. Rachel also uploaded a candid of her with her oldest daughter. "Morning madness w the crazy teen," shared the star along with a picture of her and Ava riding water jets.
Although not present, Damon Dash commented on Ava and Tallulah's adventures in Bermuda. "As long as they are having a good time I'm good…even when I'm not with them… I always fight for the bigger picture and that's my kids," wrote the producer on Instagram.
Damon has been involved in a very public custody battle with Rachel that took a turn for the worse a few weeks back. The producer lost physical custody of his girls after missing a court date, and has been fighting to re-gain his rights ever since.
"All I can do is have faith in the system and at some point I will be able to be a dad without the extortion," said Dash shortly after losing custody. "Hopefully my relationship with my children won't be damaged too much but I have faith in the fact that they know how much I loved them and just remember all of our moments when I'm not with them and they know that this is not what I want for them."
Damon and Rachel have two kids together. See more pictures of Ava and Tallulah below!