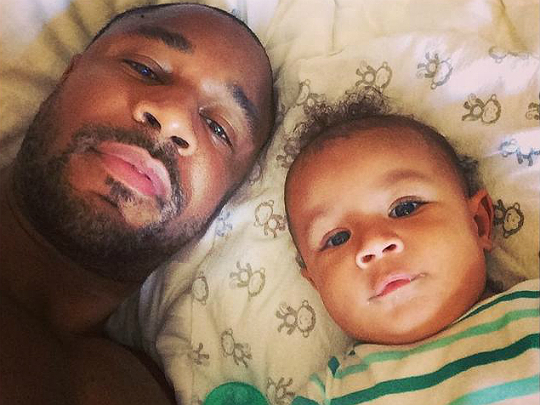 While some dads claim to have all of the answers, Tank admits that he doesn't know everything. The R&B singer tells fans that his experience with parenting has taught him much about life.
"Being a father is awesome and it's more of a learning experience than I really knew," says Tank in a heartfelt letter written to his kids. "Thinking that you're doing enough is a complete mistake! As one challenge subsides another one comes rolling right in. Signing up to be a real father means you commit your life to something greater than you. Means your first priority is the spiritual, mental, and physical well being of these amazing gifts from God. I'm still learning as a father and during this learning curve I have and will continue to make mistakes."
Tank goes on to write special notes to all of his kids, including newborn son Zion. "You're just the happiest baby I've ever seen," dotes the celebrity dad. "You wake up smiling and all day you're just looking for a reason to keep smiling. You grew two inches and four pounds in one month, which I think is an indication that we have a pro athlete on our hands."
The singer also tells Zion that his older siblings are "making me better," that Zion has taken him on an "awesome ride" thus far.
Zion is Tank and Zena Foster's second child together. The celebrities also have a daughter named Zoey. Tank is the proud father of five kids. See more photos and footage of the youngsters below!
Read all five letters HERE.
https://instagram.com/p/4XWajRlHpB/
https://instagram.com/p/4P2uYulHu0/
https://instagram.com/p/4HWvDsFHmu/
https://instagram.com/p/3uEoi3FHsL/
https://instagram.com/p/4H9AMoHtw3/
https://instagram.com/p/3SGjsJHt3R/
https://instagram.com/p/4NkVEIFHhs/