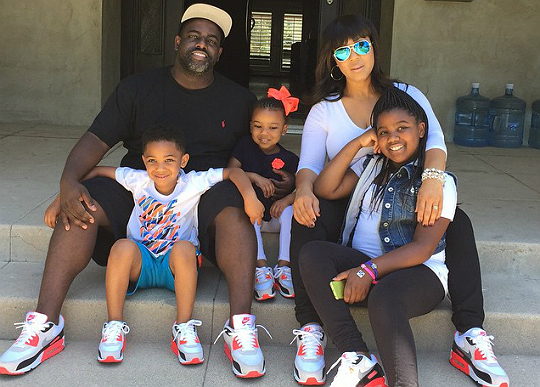 The Campbells take a family portrait outside of their home in Los Angeles, California. Erica and Warryn Campbell sit alongside the kids as they take center stage in the picture.
The Campbell kids are always the center of attraction as Warryn tells Essence that he and Erica can't get enough his son and daughters' personalities. "I used to be jealous of my kids, because when my wife would come home, she'd walk right past me and go to the kids. I'd go, 'Man. Okay, but I'm here too,'" says Warryn.
The music producer further explains, "Of course I love my kids. Any good man loves his kids, but I've gained the appreciation that she had for who they were as individuals. She saw our children as people and not just as our kids that we take care of. It made me start to appreciate their character and individual personalities. I just started knowing my children. A lot of fathers, we don't know our kids. We take care of our kids, but we don't know them. Once I started digging in and knowing my children, and appreciating their characters and personalities, I'll come and do the same thing to her."
Although Father's Day has received more national attention than in previous years, Warryn says that there isn't enough appreciation given to involved dads. "I'll go to the barbershop and that's what we talk about – how unappreciated we are," shares the star. "When Mother's Day comes around, it's crazy. It's a circus, you know? But Father's Day, it's a whisper. It's just like, man, we're not really appreciated like that."
Warryn and Erica Campbell have three kids – Krista, Warryn II, and Zaya – together. Krista is the eldest of the three.