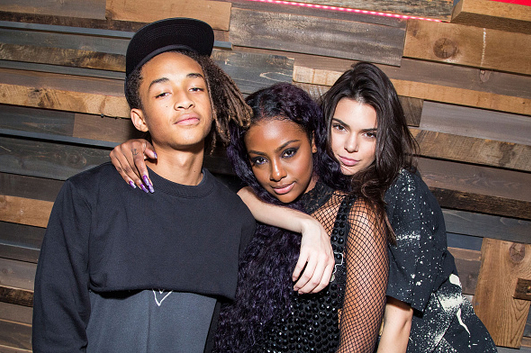 Actor Jaden Smith and model Kendall Jenner joined singer Justine Skye at her 'Emotionally Unavailable' record release party at HYDE Sunset: Kitchen + Cocktails on June 23, 2015 in West Hollywood, California. Justine a.k.a the "Purple Unicorn" recently spoke to VH1 about her new EP and her  wrapped "Bandit" mini-tour.
On why she named her EP, Emotionally Unavailable:
My friend actually came up with the name, just talking to me. And then I thought it would be a great title for my EP because it's like a combination of songs and feelings I felt after I got done with a relationship.
It's also like a contradiction, because to say something like you're "emotionally unavailable" you have to be emotional, and I feel like that's what a lot of us are going through. So that's really where it came from.

On why she refers to yourself as the "Purple Unicorn":
Well, my hair is purple for one, and one day I was recording in the studio and someone was like, "Yo, this sounds so magical…Yo, you're like a unicorn." From that day on, I just decided to call myself a unicorn because they're like so rare and unique and you know they're strong, beautiful, and very powerful.
That's why I like to call myself the "unicorn" and I call my fans "unicorns" as well, because we're like the unicorn nation. We're a family and we're starting a new movement of rare beings.
Justine Skye releases a new jam titled "I'm Yours" featuring Roc Nation rapper Vic Mensa.
Over the past few months, Justine released tracks like "A Train" and the West Indian-inspired "Bandit," which she recently shot a video for in her hometown of BK.

On whether or not the 'Bandit tour' was her first solo tour:
Yes, it absolutely is. It's a mini tour, so it's giving me a good start. In September I'm going on a bigger tour and I'm really excited for that. So this is "the test."
Over the past few months, Justine has released tracks like "A Train"," I'm Yours", and "Bandit. 'Emotionally Unavailable' is now available at all DSPs.