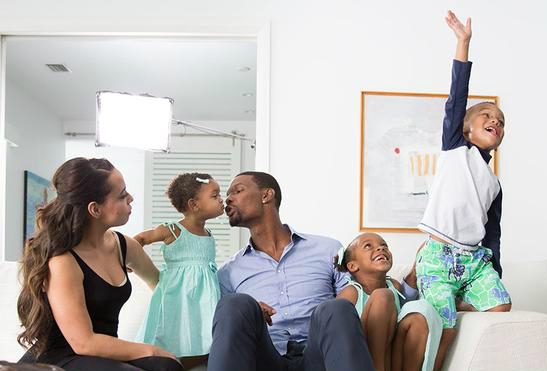 Superheroes don't have anything on fatherhood; at least, that's what Chris Bosh believes. The NBA star tells Men's Health that being a dad means being the bad guy with a smile.
"You have to be the bad guy. But a bad guy with a smile. A bad guy with limitless patience and love," says the star. "Those superhero movie bad guys have it easy," adds Chris.
The Miami Heat player also tells media that much of what he knows about parenting came from watching his father. "He was our Dad, with a capital D," shares Bosh. "When we were kids, my brother and I would want to play basketball or Nintendo, but my dad would make us turn in written reports to him first. We had these encyclopedias in the house, and he told us to flip through them and find a topic we wanted to write about. We'd write them all morning and turn them in to him, and he'd read them over and either say 'You can go now,' or 'No, you have to do this again.'"
Although Chris is a bit more on the liberal side, in comparison with his father, when raising the kids, he never forgets his role as a parent. "Your kids are just babies," explains the star. "You have to guide them, you have to show them the way. You have to tell them that they're not going to get everything they want, but you have to be compassionate about it."
In showing compassion, Chris has developed key characteristics. "I learned the virtue of being quiet and reserved. Before I became a father, I always thought of that as a weakness. But once you have kids, you learn to see it as a strength."
Chris and wife Adrienne Bosh have two children, Jackson and Dylan, together. The Miami Heat player also has a daughter named Trinity who is the eldest of the kids.