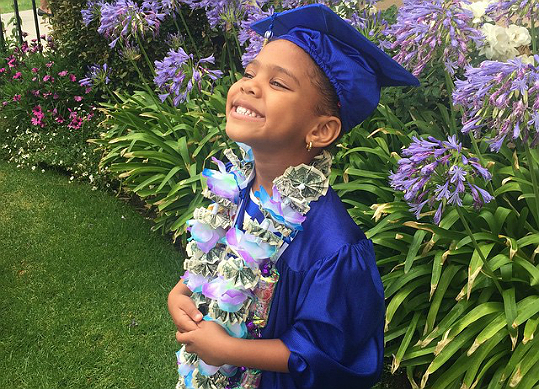 Congratulations to Cali Dream Taylor who graduated from pre-school earlier this week. The little one enjoyed the moment with her family and friends.
"I'm waaaaay up," exclaimed proud mom Tiffney Cambridge. "I feel blessed," added the children's author. "My baby graduated today." Tiffney also shared pictures from Cali's graduation day.
Cali's father, Jayceon Taylor, also commented on his daughter's accomplishment. "Congratulations baby," wrote the rapper on Instagram. "Daddy loves you and will ALWAYS be here. The way I love you is an example of how you are to be loved forever. Anything less is non-acceptable !!! This is MY BABY….. and she's the REASON." Cali shared a kiss with her father in one candid. Jayceon also uploaded footage of his daughter addressing her public on graduation day.
Miss Taylor has been the active one as of late. In addition to promoting her mother's book, The Little Girl Who Lost Her Smile, Cali has been involved with the arts. Tiffney shared a number of pictures from her daughter's most recent ballet recital. "Go Cals," wrote the celebrity mom.
Cali is Tiffney and Jayceon's only daughter. The celebrities also have a son named King. Jayceon Taylor has three kids in all.