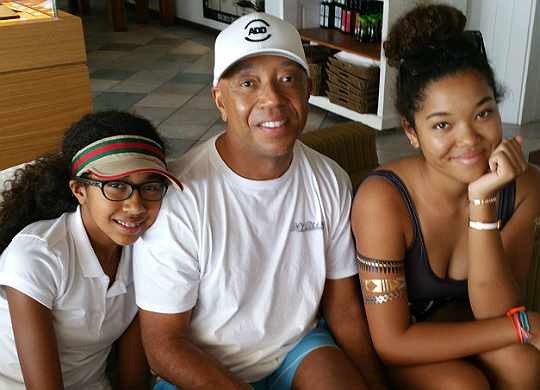 Russell Simmons is one proud father. The entrepreneur recently penned a letter to his daughters, Ming and Aoki, in honor of Father's Day that praised them for their many accomplishments in life.
"The other day while we were doing our daily morning meditation session, I opened my eyes and snuck a peak at you two," began Russell. "It took me a long time—many decades, in fact—to learn how to operate out of a sense of stillness. To see you two accessing that part of yourselves when you're still barely in your teens is amazing to me."
Aoki and Ming have their goals set in terms of career paths, which is something that Russell noted as being remarkable. "Aoki, today you happen to want to be an investment banker and I think that would be a wonderful choice," wrote Simmons. "The world needs more brilliant African-American woman in positions like that."
The business mogul also doted on his eldest daughter saying, "Ming Lee, maybe you'll go a slightly different route. You're already such an incredible artist and have been blessed with the same creative gene that your uncles and cousins have. That even your Mommy and Daddy have a little bit of. You could make people happy by being a singer, an actress or a comedian. Or maybe even all three."
Russell Simmons is the proud father of two children, whom he parents with ex-wife Kimora Lee Simmons. Read his full letter to Ming and Aoki here.