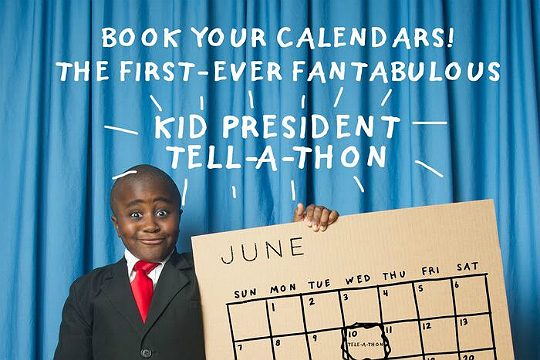 Kid President, a.k.a. Robby Novak, is working to make life awesome for underprivileged kids. The young star recently partnered with ConAgra Foods to bring a 'Tell-A-Thon" geared towards ending child hunger in the United States.
The campaign will spread awareness about the hunger crisis among children in America and encourage viewers to take action to bring an end to such disparities in the nation. "The more we can talk about it, the more we can shed light on it and find a solution," says Lanie Friedman of ConAgra Foods.
He adds, "Hunger is often unseen in the U.S. It's invisible. … But it's something that has a huge need in the U.S., not just globally. We have a huge problem here, and we as a company believe in solving that."
The first "Tell-A-Thon" taping featuring Kid President premiered on YouTube this past Wednesday. Watch it below!