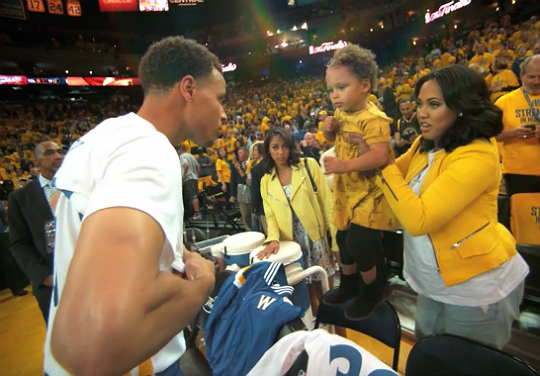 Stephen Curry did his signature chest bump and pointed to the sky before Game 1 of the 2015 NBA Finals on Thursday. The Golden State Warriors player had his daughter, Riley, and wife, Ayesha, court side to wish him well.
Riley did the chest bump with her father after being placed on top of a chair by Ayesha. The little one mirrored her father's signature sign and gave him a kiss before he hit the court. Riley didn't join her father at the post-game press conference, though she was seen dancing after the Warriors defeated the Cleveland Cavaliers. Stephen told media that his daughter may make a press conference appearance during the finals but, "Who knows."
The 2-year-old has garnered much attention after her debut during the Western Conference Finals where she told her father that he was speaking too loudly in the microphone. "That's too loud daddy," said Riley upon hearing her father's voice. "Be quiet," added the tot.
Stephen later told fans that he knew the press conference was going to be a challenge when his daughter began laughing. "Once she started laughing after the first question when she heard my voice in the microphone, I knew it was going to be downhill from there."
While some criticized Stephen's decision to bring his daughter to the conference, Ayesha defended her husband's actions. "I thought it was beautiful, and I wouldn't change a thing," said Mrs. Curry. "My husband handled his duties on the podium with ease and class. And my daughter was who she is—vibrant, spunky, and full of life. I hope she carries this with her through adulthood."
Riley is Ayesha and Stephen Curry's first child together. The couple are expecting their second bundle of joy to arrive in July. Watch Riley and Stephen's interaction at Game 1 of the NBA Finals below!