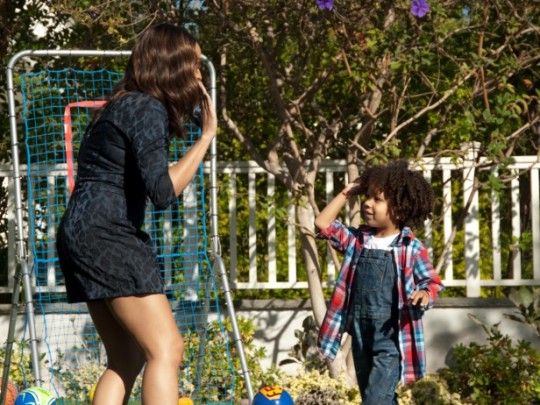 The most recent episode of 'Tia Mowry at Home' was all about basketball as actress Tia Mowry-Hardrict created a slam dunk dish for her son and his friends.
National Basketball Association (NBA) star Metta World Peace joined Tia for lunch after the actress put together a wholesome but healthy meal that included spaghetti, turkey and spinach meatballs, and chocolate-filled rice crispy treats. Cree, Tia's son, also enjoyed lunch with his friends and participated in the preparation of the meal hours before they arrived. The little one's efforts in the kitchen paid off as Metta gave Cree and his friends a few basketball pointers.
While some kids may not be inclined to eat turkey and spinach meatballs, Cree was not afraid to enjoy the healthy delight. "When Cree sees that Mommy's eating it, he'll be more inclined to try it," says Tia of her son's mature palette. "So I'll try it first in front of him. If he's still not into it, I'll try something fun like saying, 'Cree, you ready to take a big dinosaur bite?' That usually does it."
Tia and husband Cory Hardrict have one child together. Watch the latest episode of 'Tia at Home' below.
https://www.youtube.com/watch?v=o6qOoOHNLDg