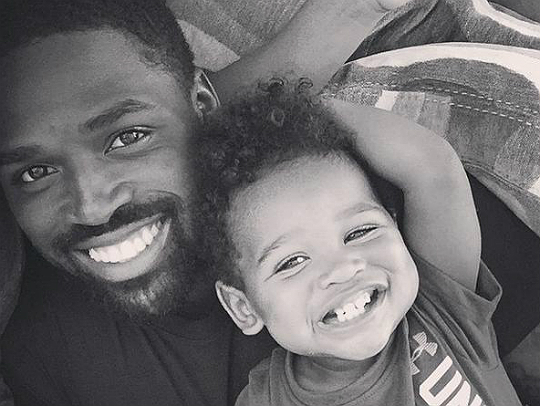 Torrey Jr., son of NFL star Torrey Smith, is no longer the baby that we remember. The little one recently celebrated his first birthday with mom, dad and family friends.
"Happy birthday to my big man," exclaimed proud father Torrey on his son's special day. The NFL star also shared a picture of his son at his Super-Man themed party that featured little Torrey wearing the superheroe's signature costume. "He has truly changed my life and my purpose," said Torrey Sr. "I love this kid so much and will give him the world as long as he was works hard," added the star.
Little Torrey has already proven himself to be one that surpasses his peers as the recipient of one of Gerber Baby's milestone winners in the brand's photo search competition. The Smiths entered their son's photo in the contest last November in hopes of him winning a prize and Torrey did just that with an adorable candid that received thousands of votes. While little Torrey did not with the grand prize of $50,000, he was presented with a $5,000 check for being the most popular kid in the "Crawlers" division.
Torrey and wife Chanel Smith plan to split the winnings between a children's charity and their son's college tuition. Little Torrey was born on April 4, 2013. See more pictures, and footage, of the youngster below!
https://instagram.com/p/3cqHOLk-QB/