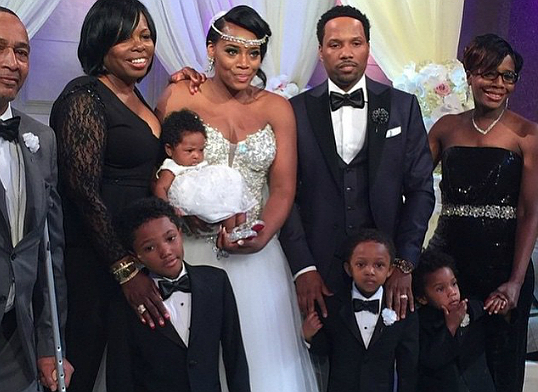 Love was in the air this Memorial Day weekend as Yandy Smith and Mendeecees tied the knot to become husband and wife. The 'Love & Hip Hop' couple had family and friends with them to celebrate.
All of the festivities took place in New York on Monday. Yandy and Mendeecees had both sides of the family at the event and mama Judy, Mendeecees mother, complimented the beautiful bride. "I think Yandy's a very beautiful bride and I'm happy she's coming into the family," said the matriarch. "I think it's a blessing and I wouldn't trade her for the world," Judy added. She and Yandy haven't necessarily seen eye to eye over the years but the two have managed to reconcile their differences and, in essence, bury the hatchet. The Harris' were definitely a united front on Monday as Yandy and Mendeecees were photographed with all members of the family, including baby Skylar.
It was just a few weeks ago that Yandy held a party in which she announced her decision to legally change her last name from Smith to Harris. The Reality TV star was brought to tears as she promised her full love and devotion to Mendeecees and the kids.
Yandy and Mendeecees Harris have two children together. Mendeecees has four kids in all. See more pictures and footage from the Harris' wedding below!
https://instagram.com/p/3IfudJPkgU/?taken-by=yeahimfamous