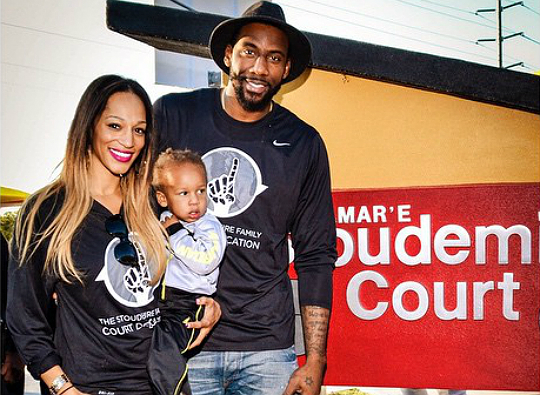 The Stoudemires are a family of foundation. Amar'e, Alexis and the kids hosted a family day out in Lake Wales, Florida, in honor of the opening of a refurbished basketball court that they sponsored at Lincoln Avenue Park on Tuesday. Lake Wales is Amar'e's hometown, and the NBA sensation was more than happy to celebrate the remodeled court in an area where he grew up.
More than 500 children, along with their families, attended the unveiling event. The Stoudemires had lots of games and other activities for local families to enjoy. Amar'e and Alexis also had food at the event.
The Amar'e and Alexis Stoudemire Foundation has helped dozens of families in need since its inception several years ago. The charity has given a number of local youth the opportunity to thrive through various programs and support groups. Amar'e and Alexis' organization also partnered with the National Basketball Association during MLK Day 2013 to give back to employees of Madison Square Garden.
"It's only right to show support on how much we appreciate how much they work," said Amar'e during the event. "It's really just showing support that we truly appreciate all the employees that actually make our job easier as basketball players. It's on a special day as well, a day of unity. It's great to bring everybody together for a nice cause."
Amar'e and Alexis Stoudemire have four children.