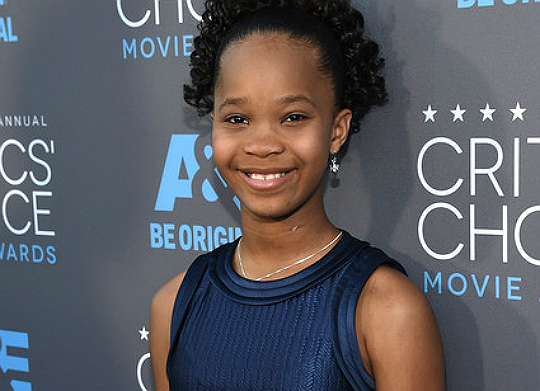 Quvenzhane Wallis was one of many young celebrities to attend this year's Critics' Choice Movie Awards on Thursday (January 15). The Annie star lit up the red carpet at the Hollywood Palladium with her smile and dress.
Quvenzhane was one of several youngsters nominated in the Best Young Actor/Actress category. This is the second time she has been up for an award based on her performance in Annie, which is still making waves long after its December debut.
While some criticized the remake, many were thrilled to see the Broadway original in a different light. Most viewers praised Quvenzhane for her liveliness, and gave Jamie Foxx much recognition for being a good supporting actor onscreen.
Foxx was a good sport offset as well as he let all of the spotlight shine on his young co-star during interviews pertaining to Annie. "She is so great at what she does, you forget she's only been here eleven years," said the seasoned actor during one interview in which he discussed Quvenzhane's Golden Globe nomination for Annie. "For people to look at the art and award you not with just a pat on the back or good critique, you get nominated for a Golden Globe. How many celebrities or actors and actresses have gone through Hollywood and never gotten that opportunity?"
Quvenzhane debuted as an actress in Beasts of the Southern Wild in 2012. This is her second time being nominated for an Oscar.
Photos: Getty Images