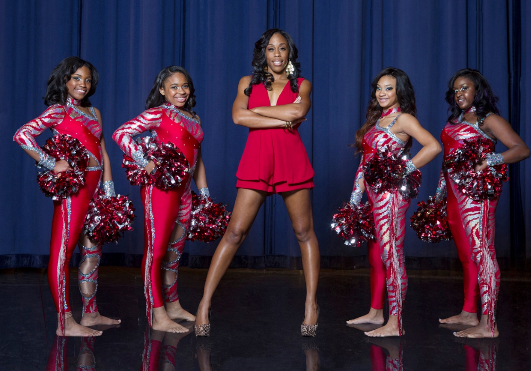 Since 2001, the dance troupe, Dancing Dolls of Jackson, Mississippi, have been a pillar in the competitive hip-hop dance community. Founded by troupe leader Dianna Williams, or Miss D, the dancers have been taking down titles like nobody's business. To date the troupe holds 15 champion titles and over 100 trophies. Not to mention, their very own reality TV series, of which season 2 is set to premiere on Friday, January 23 at 9/8c on Lifetime.
So what does it take to be a real champion hip-hop majorette?
Bring It! follows the young competitors as they fight to pump, thrust, and high kick their way to the top. Aged 7-17, these girls are no strangers to hard work and tough motivation. The Dolls are the real-deal, ready for any obstacle that comes their way, and willing to work as hard as necessary to prove they are the best. And that they are. With unmeasurable talent, and incredible will-power, these young girls have the passion and ability to redefine a generation.
In season 2, Miss D and the Dolls are back, with the same high energy audiences and judges have been falling in love with for years. Watch as the girls once again clamor and fight for their rightful place at the top.
Miss D is the owner of the Dollhouse Dance Factory, where she choreographs and trains her Dolls. She is known for her passion, relentless competitive spirit, and her will to instill in her dancers a sense of self-worth and hard work — both on the floor, and in school. She is a mentor like no other. This season, she will focus once again on inspiring her girls to continue taking the country by storm in cutthroat national competitions.
As a professional dancer, hip-hop star Tinashe is happy to share her enthusiasm for Bring It! with her fans, and is offering an exciting sweepstakes in partnership with Lifetime as part of the #HowIBringIt campaign!
To enter, simply fill out the form here, and submit a tweet, photo, or video on Twitter or Instagram using the hashtag #HowIBringIt for your chance to win.
The Grand Prize Includes:
• Two VIP concert tickets to a U.S. stop on Tinashe's 2015 tour
• A meet-and-greet for two with Tinashe
• A personal photo and signed autographed poster
• Round-trip airfare, ground transportation, and hotel accommodations for two nights
Don't miss a moment of this incredible journey. Bring It! is the perfect show for anyone who is passionate about hip-hop, dancing, and going after hard-earned dreams.
Season two of Bring It! premieres on Friday, January 23 at 9/8c on Lifetime. 
This post was sponsored by Lifetime
%CODE1%