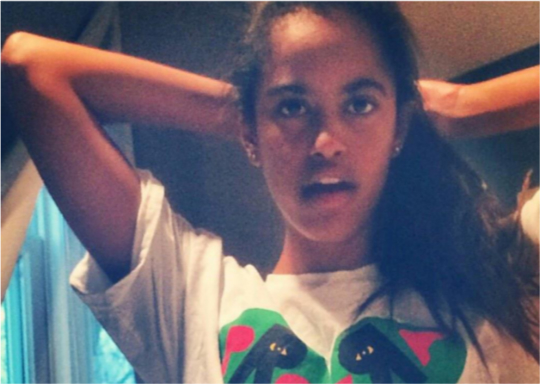 Finally! After several years of putting on a happy face while dressed to impress, Malia Obama is breaking out of the mold. The teen was recently captured in her first ever selfie, and casual was definitely the theme.
The first daughter struck a pose while sporting a Pro Era tee shirt. Malia's hair was pulled to one side and her eyes were definitely focused on the camera's lens.
Although this is the first time a selfie featuring Malia has been posted, it is not the first time that we have seen the eldest of the Obama girls spotlighted as an ordinary teen. It was just a few months ago that the 16-year-old stopped by Lollapalooza and enjoyed a bit of Hip Hop artistry with friends. Many attendees were surprised to have Malia in their midst, and one girl even had the pleasure of taking a picture with the first kid.
Malia and her younger sister, Sasha, are the daughters of President and First Lady Obama. They will celebrate their seventeenth, Malia, and fourteenth, Sasha, birthdays this summer.