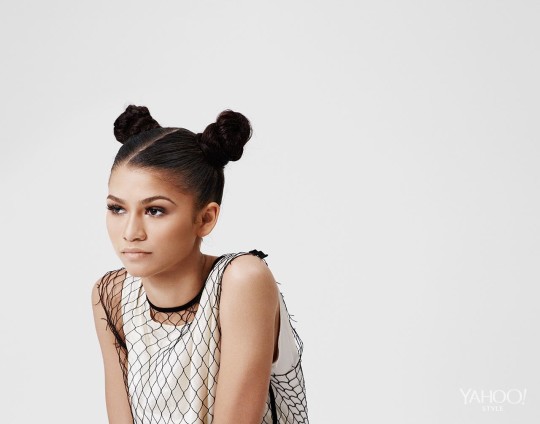 Zendaya proudly told Yahoo Style that she plans to stick with Disney for the foreseeable future.
While many young women reach what seems to be an inevitable point in which they must break their ties with the company and its young fans, Zendaya has quite a different perspective moving forward: "I obviously want to continue to stay in the Disney world and grow at the same time." Naturally then, she is excited to be moving up the ranks, acting as the star and the co-producer in her upcoming TV show, K.C. Undercover.
"Now I'm able to really have a vision," she exclaimed. "I can say what I want and be assertive. I can have a really, really strong voice and presence on my own show and be listened to. That's the coolest part. I have more control; I have more freedom to make [K.C. Undercover] something that I'm proud of."
At only 18, it is fair to say the young star has been growing creatively throughout her whole life. Hailing from Oakland, a place she admitted has a bad reputation but noted that it is also a place full of talent, she began honing her performance skills very early on. "It's a very inspiring place," she said. But today, she calls L.A. home, and has a number of merits under her belt.
Since rising to fame in 2010 after her role in Disney's Shake it Up, Zendaya has released a successful album, an advice book for young teens, and has been a runner-up on Dancing with the Stars. Future projects abound — she is looking to release a second album for which she is hoping her obsession (Drake) will be a part of, and is hoping to do something with fashion as well.
Zendaya is not the first Disney star to seek more responsibility within the company. In fact one of Zendaya's role models is Raven Simone, who produced her sitcom on the Disney channel, That's so Raven. Zendaya said she looks up to Raven comedically and believes her show remains Disney's best.
Despite her loyalty to the company that launched her to super-stardom seemingly overnight, the starlet did consider stepping over to Lifetime earlier this year to take on the role of Aaliyah in an upcoming biopic. She eventually backed out of the movie with great integrity, announcing that she was uncomfortable with the quality of the film. Controversy surrounded the biopic from its inception, with some people criticizing Zendaya for not being "black enough" for the role.
To that, the witty and intelligent Zendaya said: "The first African-American President of the United States is half-black. So is he not the first black president? Is he just the first half-black president? Do we take that credit away from him? No."
Clearly, as Zendaya continues to grow up in the spotlight it is certain that she will also continue to do great things.
Photos: Yahoo Style