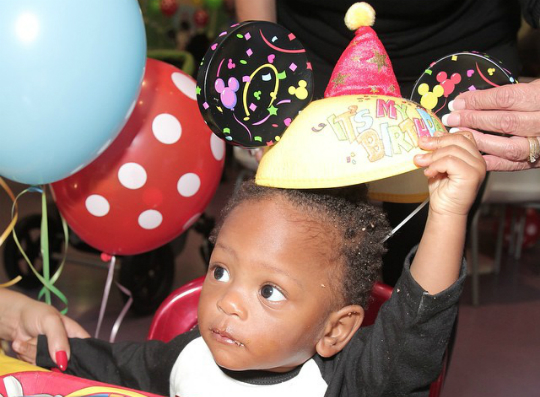 Xavier Zachariah Wade celebrated his 1st birthday this weekend at Disneyland. The son of NBA player Dwyane Wade enjoyed a Mickey Mouse themed party with family friends.
Earlier last week, Xavier's mom, Aja Metoyer, wrote a sweet message to her son. She wrote, "Exactly a year ago at 7:03 am my lil man was born 1 of the most amazing days of my life.. There was a time when I thought I would never have a son .. But on November 10, 2013 my family and I were bless with Xavier Zechariah Wade.. I've spent every day since with you and every night sleeping next to you and constantly checking on u.. Even when you sleep through the night I don't lol. I love being your mommy son. I could never imagine life with out you. I love Ur smile Ur hugs and sweet kisses. Love you always and forever son .. Love can't even express how I feel .. Happy birthday baby my sweet special surprise XaveyBaby[sic]."
Xavier is the third bundle of joy for Metoyer, who has two daughters with actor Damon Wayans Jr. Dwyane Wade has two other sons from his previous marriae to Siovaughn Wade. The Miami Heat player also has custody of his nephew.
Photos:Instagram