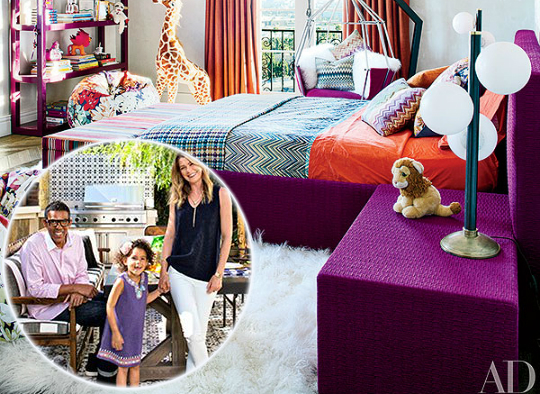 Ellen Pompeo and husband Chris Ivery might have been secretive about their second child, but now they're wide open about her nursery. The actress opened her doors to Architectural Digest to show off the re-design of her 1930s home.
The 16,000 sq ft L.A. villa presented a big set of challenges when the couple purchased it in 2009, but Ellen was not turned off in the least. "Reinvention is invention" she boasted.  Working with designer, Martyn Lawrence-Bullard, she focused on brightening up the room. For her daughters, this also meant filling them with colors and patterns.
For two-month-old Sienna May, fuchsia, yellow, and blue dominate. Headdresses and hanging ceiling decors loom over the fuchsia crib, and stuffed animals graze about on the cozy white carpet. Meanwhile, big sis Stella Luna (5) gets a purple and orange fix, with prints, prints and more prints. The bean bags and ottoman come together to give the colorful space a cozy atmosphere.
It's clear that these girls have won themselves the ultimate little joyous havens.
In addition to spicing up the girls rooms, the Grey's Anatomy star also got around to creating an outdoor dining room, and doing a complete overhaul of the kitchen while maintaining its vintage charm. Earth-tones, oaks, and Moroccan style additions throughout leave the house with a modern-rustic feel, a lovely contrast to the bright kid spaces.
Photos: Architectural Digest