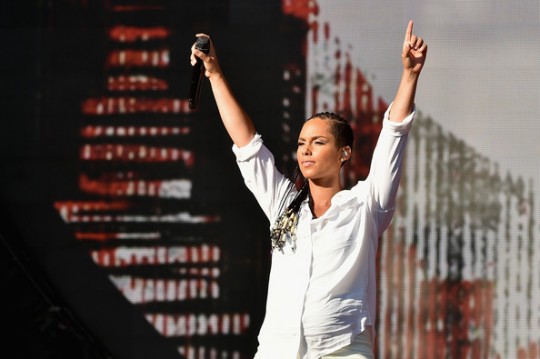 Alicia Keys sang down the house with husband Swizz Beatz's support at the Global Citizen Festival on Saturday. The singer delivered her hit single 'We Are Here' to thousands who were striving to make their voices heard.
Alicia talked about her single during a visit to 'The Breakfast Club' earlier this month. "I think we're all witnessing what's going on around us in the world, and I think we all feel a lot, and don't know exactly how to express it," said the singer. Keys also shared a few details about her pregnancy during the interview that included telling fans that she is not expecting twins. Although she referred to her upcoming little one as a boy during the conversation, she refused to officially confirm the baby's sex.
Keys wrote 'We Are Here' after attending a gathering that specifically questioned her purpose in life. Her song addresses the various social issues at hand and calls for peace. Alicia also launched a movement as a result of her life-changing session that is also called 'We Are Here.' Thousands have partnered with the R&B singer to spread compassion since the initiative's debut.
Alicia Keys and husband Swizz Beatz are expecting their second child together.
Photos:Getty Images for Global Citizen