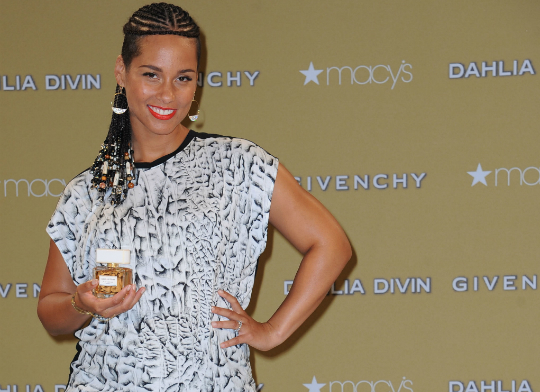 Even while pregnant Alicia Keys is working, The R&B singer recently launched a new fragrance by Givenchy called 'Dahlia Divin.'
Alicia glowed as she held the bottle of perfume while standing in the spotlight. Photographers from near and far captured the expectant mom in all of her pregnancy glory as she sported casual pants with a black and white shirt. Even Alicia's shoes were fashion forward with their polka dots that were in complete sync with the rest of her outfit.
"I wear perfume often – it's part of getting ready, " Keys recently told Hello Magazine. "As a working mother, sometimes I'm too busy to remember to take time for myself, but perfume can be a wonderful reminder to take a minute, breath and face the day," Alicia explained.
Alicia and husband Swizz Beatz are expecting their second child to arrive in coming months. The couple already have a son named Egypt.
Photos: INFparazzi/Instagram