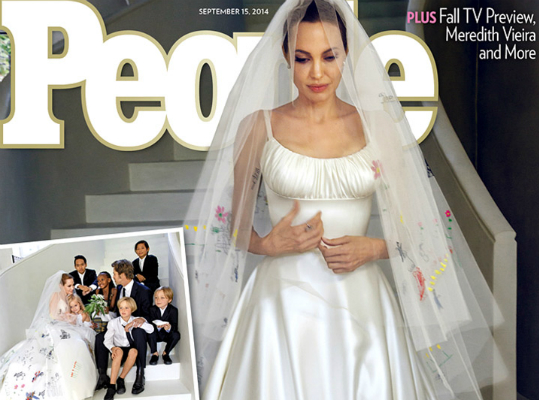 Angelina Jolie walked down the aisle to wed Brad Pitt with their six kids on her mind and remnants of their creativity on her dress. The actress and her husband recently shared photos from their wedding day with media, where Angelina's dress was beautifully adorned with artwork created by her kids.
Paintings tailored by Maddox, Zahara, Shiloh, Vivienne, Knox, and Pax were featured on the front and Angelina's dress and throughout her veil. The actress-turned-director will be on the cover of People magazine's upcoming issue while wearing the gown and appearing to be in deep thought about the future.
Brad and Angelina expressed their happiness with media shortly after wedding last week. "It was important to us that the day was relaxed and full of laughter. It was such a special day to share with our children and a very happy time for our family," said the couple. Only twenty family members and close friends were in attendance at the ceremony. Brad and Angelina had been in courtship for several years before marrying.