Beyonce delivered an amazing performance at this year's MTV Video Music Awards, but it was Blue Ivy Carter who stole the show. The 2-year-old helped her dad present the Michael Jackson Video Vanguard award to mom after Bey's action-packed segment on Sunday. The singer was brought to tears at the sight of her daughter and husband.
We have compiled a list of  some of Blue's most adorable moment's at the 2014 MTV VMA's. Check them out below!
1. The moment we saw Blue dancing in the audience. Did you see Blue dancing in the audience? We did! The little one sat in the crowd and grooved to her mother's performance.  In case you missed it, here is a GIF to remind you of that adorable moment.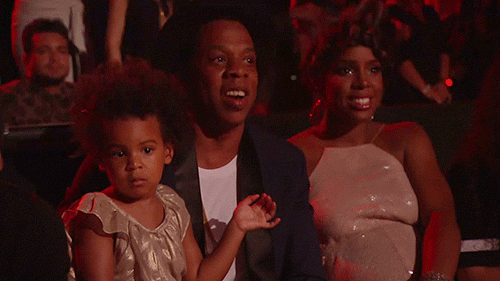 2. When Blue became part of the show. Beyonce began her performance by welcoming the crowd to her world and ended the segment by featuring footage of her daughter's milestones on the projector. The moment was sealed with Blue's adorableness when the little one joined her mom onstage while the song 'Blue' played in the background.
3. That moment when Blue appeared on stage. All eyes were on Blue when she took to the stage and showed off her Bonpoint dress and Kenneth Cole shoes. The little one was later classified as one of the best dressed children at the show, and the dress she wore immediately sold out.
4.  When Blue took to the microphone. The toddler reached for the mic and said, "Yeah mommy" when presenting the Michael Jackson Video Vanguard to her mom with the help of dad.
5. Blue was caught singing. Blue joined her mom in singing 'Flawless'. The  little one sang in the audience while Bey performed onstage.
6. When the camera captured Blue's beautiful fro. Auntie Solange would have been proud of her niece's beautiful hairdo. Blue's hair was truly a moment in itself.
https://www.youtube.com/watch?v=sPn7DXnNBuY