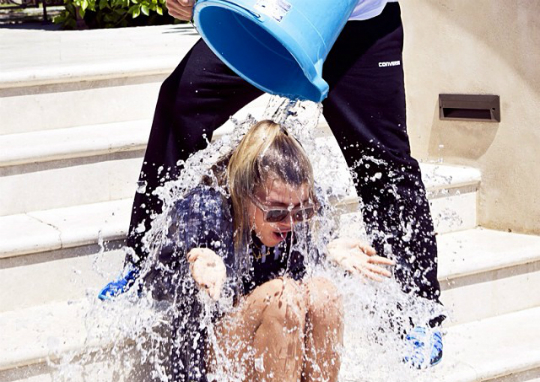 Sofia Richie (pictured above) is rising to the challenge. The teen recently accepted her father's invitation to participate in the ALS Ice Bucket Challenge, and she completed the task wholeheartedly. Sophie's water had real chunks of ice that took her by surprise when poured over her head. Proud dad Lionel Richie gladly administered the ice cold water that will help charity.
The ice bucket challenge has raised more than $31 million and made many aware of the debilitating disease known as Amyotrophic lateral sclerosis (ALS). Also recognized as "Lou Gehrig's Disease," ALS causes the motor nerves to break down and eventually become inoperable. As the disease progresses, those diagnosed find themselves hardly able to move and eventually paralyzed. ALS is an uncomfortable illness that leads to death. The disease affects thousands in the United States every year.
Hundreds of celebrity moms, dads, and kids have taken the ice bucket challenge. Hundreds more have been invited to rise to the challenge and spread awareness about ALS. Cori Broadus responded to Reginae Carter's proposal to get soaked for charity by letting her brother pour a bucket filled with cold water on her head.
Cori Broadus and her brother have both done the Ice Bucket challenge.
Jamie Foxx also accepted the challenge and let his daughter do the honors of soaking him for ALS. See the action here!
Reginae Carter takes the challenge.
So did Emily B's daughter Taina.
With so many celebrities rising to the challenge we have to ask: will you get soaked for charity?