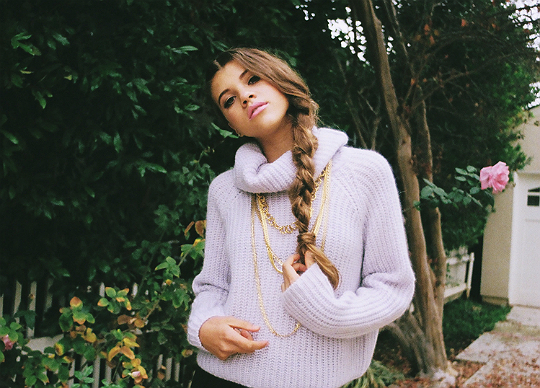 Lionel Richie's youngest daughter, Sofia, is making a name of her own. She was introduced by Teen Vogue last year through her modelling career, and now the fifteen year old says she is anxious to start a music career.
The up and comer recently sat down with Access Hollywood to talk about what it's like to be a Richie girl. She revealed that despite the 18 year age gap between her and Nicole, her big sister has always been more of a best friend than a parental figure, sharing advice – and clothes!
When Nicole asked Sofia to join her on her new reality show, Candidly Nicole, the teen said she was more than happy to support her sister's newest venture. But of course, this is not the first time Nicole has starred in a reality show. Years ago she was catapulted to fame through The Simple Life alongside her then BFF, Paris Hilton. Looking back, Sofia pointed out that her sister has come a long way.
"My parents didn't let me watch it when it was happening," Sofia admitted; but she has been catching up these days. Watching it now, she could only describe it as "crazy." Sofia emphasized, "I feel like she still has a little of that in her, but it's not that intense." Considering the many weird antics that took place on the show, she added, "I would do a reality show, but not like that."
But before TV, Sofia's aspirations lie in music. Looking to launch a career in the soulful, R&B industry, the young model said it was going to be a long two years before her father will allow it to happen. With her best interests at heart, Lionel has decided that Sofia's career shouldn't start just yet. "He just wants me to be completely ready for everything. He wants me to just be mature in my music so I don't have to go through that awkward stage of a kid to, like, a grown artist."
In the meantime, you can catch Sofia on Candidly Nicole, and in the pages of fashion magazines.
Below are more photos of the upcoming star at a recent photoshoot.