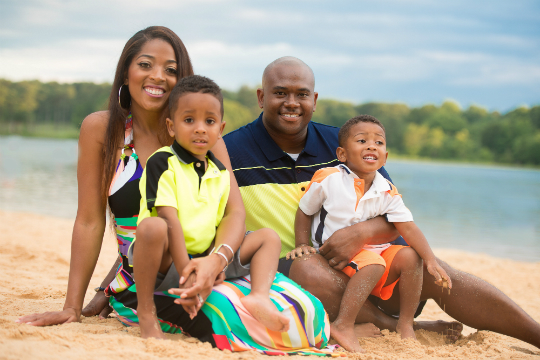 Toya Bush-Harris is living the good life as a mom of two handsome boys and wife of a thriving doctor. The reality star was recently photographed with her princes and made sure to smile wide while being surrounded love. Ashton and Avery were the adorable two who brought excitement to the photo shoot.
The little ones are often the center of attraction on the hit reality show 'Married to Medicine.' Toya and her fellow cast members just wrapped up season three of the show, and the doctor's wife couldn't be happier with her life as a celeb mom. "It has been awesome," says Toya of the experience. "My days are filled with my children's lives and helping in the community."
Toya has been helping the community for quite some time now as a pharmaceutical representative. Mrs. Harris began her trails in the medical field in Detroit, Michigan, where she was born and raised. The reality star attended Tennessee State University before earning a specialized degree from the University of Phoenix that allowed her to pursue her pharmaceutical dreams. Toya met Dr. Eugene Harris III in Detroit while he was completing his residency, and the rest is television history.
'Married to Medicine' airs on Bravo's network
Photos: wwww.jpearsonphotography.com and makeup by Jennifer Pearson www.jenniferpearsonmua.com