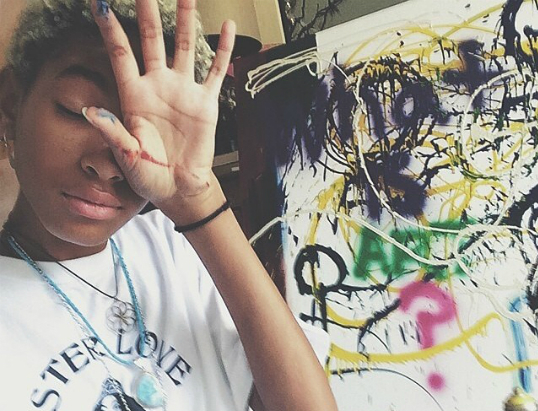 Willow Smith collaborated with Kitty Cash for the new single "8", which is released this week on Kitty Cash's mixtape, Love the Free II.
The mellow song delves into Willow's new found appreciation for numerology. "I've been really into numerology lately because a lot of numbers have been following me and my friends," she told MTV. She continued, "I've been coming into this new phase in my life, just becoming one with all that is, going deeper into myself and getting to the goal of my music, which is to share that feeling and pass on knowledge so that consciousness can be raised on this planet."
Willow found Kitty's new mixtape to be the perfect opportunity to get together with the DJ. She first discovered Kitty through her love of Kilo Kish, for whom Kitty is the official DJ. "I was like, 'Wow, she's super sick'!" the 13-year-old said. "Then a while later, [TDE singer] SZA told me about the Love the Free compilation at dinner and I was like, 'This is a perfect opportunity!' So excited for this compilation. Congrats Kitty."
Willow has been promising that new music was on the horizon for a while now, but so far these collaborations with artists like Kitty Cash and Sza ("Domino") have been excellent teasers. So, congrats Willow.