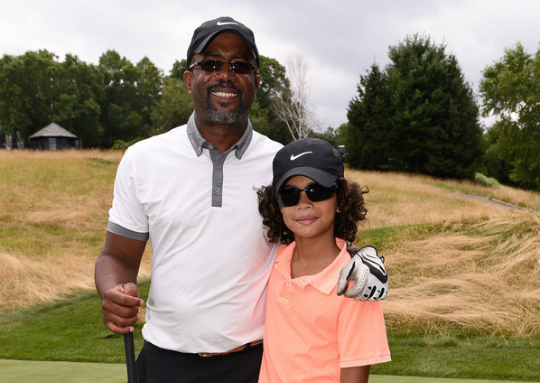 Hootie & the Blowfish star, Darius Rucker, attended the T.J. Martell Foundation Golf Classic yesterday, July 28th, with his son Jack.
The T.J. Martell foundation was founded in 1975 by music producer, Tony Martell. His son had just lost his battle with leukaemia at the age of 19, and Tony was dedicated to keeping a promise he had made him. He was asked by his son to raise a million dollars for leukaemia research so that no one else would have to go through what he was going through. Today, the T.J. Martell Foundation, named after Tony's son, has raised several billion dollars for leukaemia, cancer, and AIDS. It is deeply rooted in the music industry, with the tagline: "music's promise for a cure."
The Golf Classic is not likely Darius's first round of Golf as he is a fan and close friend to Tiger Woods. Jack (9) is his youngest child. He has also fathered two daughters, aged 19 and 13.
Photos:Dave Kotinsky/Getty Images