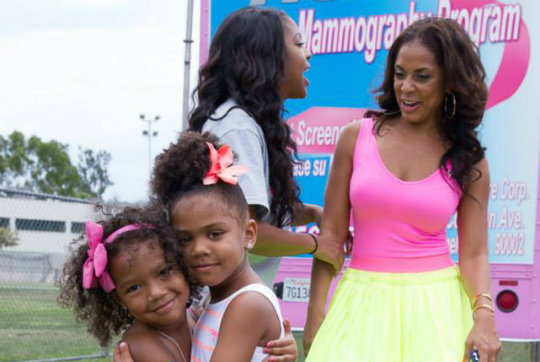 Michel Sproles and her husband Darren Sproles, of the Philadelphia Eagles, held the first Pink Line Breast Cancer Awareness Fair at Rancho Cienega Park in the heart of L.A on Saturday, July 19th.
The event was hosted by Googoo Atkins of WE TV's Mary Mary. Celebs in attendance to pay their tribute and respects to breast cancer patients and survivors included Carolina Panthers' Antoine Cason, Basketball Wives LA's Malaysia Pargo, and Marrying the Game star Tiffney Cambridge – who even brought along her 4-year-old daughter, Miss Cali.
Michel had been diagnosed with stage 0 breast cancer in 2012, and chose to undergo a double mastectomy as treatment. At the time she was only 28. Following this life-event, Michel decided to dedicate her time and energy to reaching out to women in underprivileged communities across the country. Pink Line Awareness was born.
Michel partnered with Susan G. Komen L.A. County and their new California Circle of Promise® African American Initiative to jump-start this event. The fair featured a fully-staffed on-site mammography setup, and Susan G. Komen were able to provide safe and free mammograms to qualifying women on the spot.
Michel and Darren have been married since 2010. They have two daughters, Devyn, and Rhyan.
Website: PinkLinefair.com