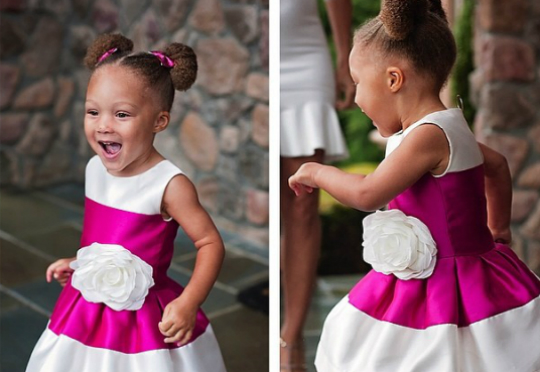 "Happy Sunday" from Genevieve! The daughter of Kevin and Erika Liles recently posed in her Sunday's best. Little Genevieve twisted and smiled as the camera captured a shot of her wearing a beautiful dress with a white bow.
The little one has been quite lively this Summer despite having pink eye. "You think conjunctivitis (pink eye) can keep me down? Think again," wrote Erika next to a picture of her daughter giving the camera a bit of attitude. Genevieve has enjoyed her first tennis lesson and the BET Awards since getting over the annoying illness two months ago.
Not only has the little one been having loads of fun, but she's also been engaging in a bit of work these past few weeks. According to her mother, Genevieve will make her editorial debut next month when the August issue of Oprah's magazine hits newsstands. Now how's that for incredible?
Genevieve is Erika and husband Kevin Liles' first child together. The couple are expecting their second child to arrive in coming weeks.