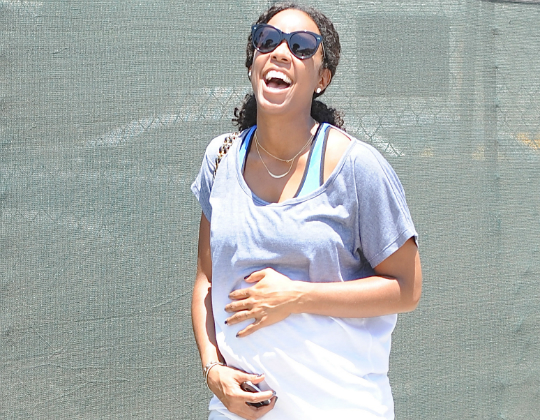 Kelly Rowland has got the baby glow. The singer was recently spotted while out on a lunch date with friends. Rowland smiled from ear to ear as she walked down the street in Los Angeles. She and her group of family friends dined at the Urth Caffe, where they enjoyed the outside scenery while eating.
The 'Dirty Laundry' singer has been active while expecting. Kelly has run a marathon and engaged in strenuous but manageable workouts since announcing her expectancy with husband Tim Witherspoon on Twitter a few weeks ago.
"I'll be stuntin like my daddy," tweeted Rowland next to a picture of baby tennis shoes upon discovering that she was expecting. Kelly wed Tim, who is a talent manager, earlier this year in a private ceremony that included family and a few close friends. The Witherspoons are expecting their first child to arrive in coming months.
Photos: SPlashnews/Instagram