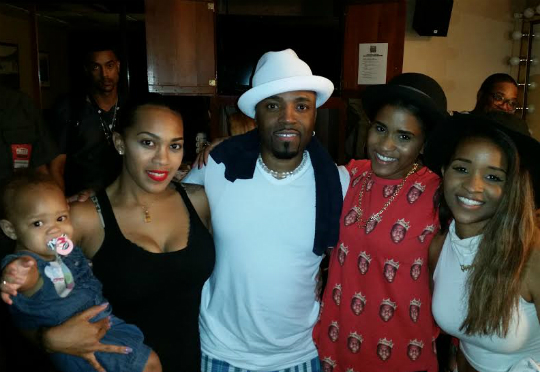 Singer and music producer Teddy Riley put on a spectacular performance with his fiancée and children by his side at the Hot 92.3 concert that was held at the Greek Theatre in Los Angeles this past weekend. The musician rocked the house alongside Jagged Edge and K-Ci, who also performed at the event.
The concert was a throwback of some sort as the majority of the acts were popular acts from the 90's. Blackstreet was one of the groups onstage  that many remembered well. The group recorded the hit single 'No Diggity' that reached the number one spot on the Billboard 100 in 1996, and is still popular among many today. Teddy, along with other members of Blackstreet, happily took Saturday's concert attendees down memory lane as they rocked the house with a few of their famous songs.
Riley was surrounded by loved ones as he performed with the group that he founded in 1991.  Daughters Nia, Deja, and Bobbie were all present to support their father. Missing was Taj, who recently had a  dispute with her dad.  Teddy recognized his daughter's absence and expressed his desire to see her.  He wrote on Instagram,  "This is monumental being with my daughters less babygirl who I miss dearly," wrote Teddy. "Next time you will see us all together. God willing!!! I miss y'all so much!"
You may remember that the singer  also had a brief falling out with his daughters in 2009, but he has since reconciled and moved forward in his relationship with his children.
Teddy's newest son My'kkal along with his granddaughter Kamryn (daughter of Nia) were also in attendance at this weekend's concert. Teddy and fiancée Mandela are planning to wed in coming months. Riley has seven kids in all.