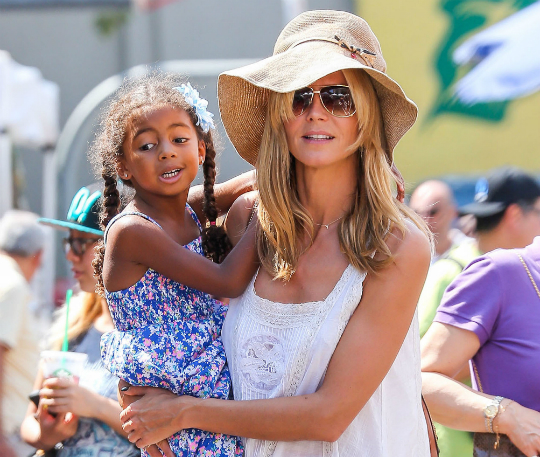 Heidi Klum is on the move. The star was recently spotted in New York City with her kids. Klum was seen holding Lou in her arms as Leni, Johan, and Henry walked beside her. The supermodel and her kids looked fabulous in summer wear that was simple and to the point.
Although many view her as the epitome of healthy, Heidi tells Extra TV that she struggles with eating right on a daily basis. "I have to constantly have a fight with myself," explains the star. "[I say], 'Yes I want it…No, no, no…Yes I want it…No, no, no.' Then you just walk away from [junk food]."
Heidi satisfies her fitness goals with a little physical activity alone and lots of quality time with her kids. "I like to run. I go swimming in the pool. I mean, I have four kids so they help me a lot too with keeping my body in shape," shares the celeb.
You can view Heidi's new workout line with New Balance in stores and on the company's website, which is flashy and cute. "I kind of put the sprinkles on everything to make it more fashionable [and] make it more fun," says the star of her line.
Heidi Klum has four kids.
Photos: Fameflynet