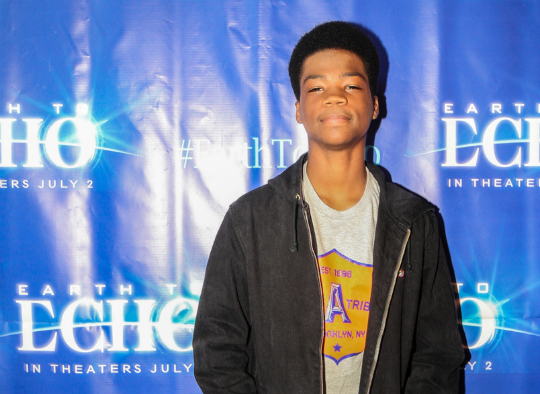 "Music is my life, acting is a job", says 17 year old Brian "Astro" Bradley. And that may be so for this 2011 X-Factor finalist, but what a job it is! In the last few years, Astro has been amping up his acting resume with several small T.V. roles, but is now making the transition into full-fledged actor.
His film debut comes with an 80s inspired sci-fi, which just opened in theatres. Earth to Echo follows the story of three boys, Tuck (Astro), Munch and Alex whose inseparable friendship is coming to a close thanks to a highway construction project that will divide their neighbourhood. When they find an alien named Echo who is in need of their help, the little bit of time they have left together becomes jam-packed with adventure. Despite its looking to classics like E.T., Goonies, and Stand By Me, it incorporates new technologies to keep up with the times. Not only is it heavy on the CGI and other SFX, it's also put together as a found-footage film, using the kids cell phone cameras to drive the plot.
"Our producer, Andrew Panay, wanted a nostalgic feel but he also wanted to put a 2014 spin on things," Astro explained. "These days, if you were to find an alien, you'd film it. So, yeah, I think the found footage element of the movie is cool. Everybody is filming everything with their iPhones. It makes the movie relatable and real for the kids of today."
He was also blown away by how the SFX come to life on the big screen. "It was crazy for me when I saw the movie for the first time and there was Echo floating. We were looking at nothing [on set] but when you watch the movie, it looks like we were making eye contact with him. The CGI stuff was amazing… Those special effects guys, I have a lot of respect for them. They work very hard."
But Astro didn't stop there. He went on to land a role in the upcoming Liam Neeson picture, A Walk Among Tombstones. He spoke highly of his experience meeting the action star, and surprisingly said he didn't even know who he was at the time. Ultimately, Astro sees that as a positive though – "I'm glad I didn't know who he was because the chemistry might have been a little awkward onscreen. I would have been, like, 'oh my God, I'm sitting next to Liam Nesson!' But, as it was, it felt very normal. He's a great dude."
Astro can also be found on the small screen again soon enough. He will be starring in the new teen-drama Red Band Society, alongside Octavia Spencer (The Help). The show will follow a group of teens living with a variety of illnesses whose lives intersect during their extensive stay in the paediatric ward.
But it all comes back to the music. While this teen star finds acting enjoyable, his passion still lies with his aspiring career as a rapper. In fact, acting is not something he even takes very seriously. He admitted that he didn't bother to prepare for Earth to Echo, but whatever he's doing, it's working.
Meanwhile, he has recorded some music with Pharrell Williams which is still yet to be released. He's also planning to release an EP of his own self-produced tracks. "The music I'm sitting on is amazing", he assures. "I think people are wanting it … And it's always good to be wanted."