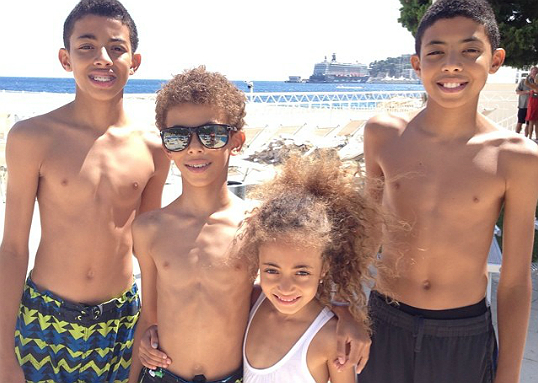 Summer is fun with team Pippen. The family of four has spent a few of their vacation days in the United Kingdom, and gave back to the community while there. Scottie, Larsa, and the kids had fun in London and Monte Carlo before returning to the States. "Enjoyed Europe! Time to get back to the states," tweeted Larsa on Monday.
The basketball wife is a big supporter of non-profit organizations and loves to see her kids lend a helping hand to those in need. "The kids actively promote raising awareness for social matters including school bullying, healthy eating, and active lifestyles," writes Larsa on her blog. "By partnering up with kids their age, they're able to promote the message of 'giving back in anyway you can.'"
Mrs. Pippen and her family are looking forward to concluding their Summer of fun and charity in Haiti. "Come August, #teampippen will be given the opportunity to lend their time and efforts in support of the victims from the tragic hurricane which occurred late 2013."
Scottie and Larsa Pippen have three kids -Scotty, Sophia, and Justin- together. Check out more pictures of the Pippens below!