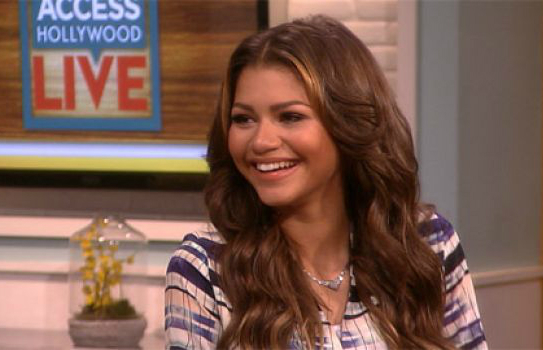 Zendaya recently sat down with Access Hollywood to discuss everything from fashion, to her future – including her controversial role as the late R&B star Aaliyah in an upcoming Lifetime movie.
The 17 year old actress responded to the public's apparent dismay about the film, from concerns about Aaliyah's family to the question of how she will handle the role itself. Zendaya assured us that her first and foremost concern at this point is the family, who reportedly may not be on board with the project. "I [personally] wrote a letter because they are the most important thing to me. I have been an Aaliyah fan for my entire life." The young star also stated that she hopes the film is something the family can be proud of.
While at the heights of her fame in 2001, Aaliyah died in a tragic plane crash along with the pilot and the seven other passengers who had been with her for the shooting of her music video, "Rock the Boat". She was only 22 at the time and was engaged to marry producer Damon Dash. Following an investigation it was found that the pilot was unlicensed at the time of the crash and had traces of cocaine and alcohol in his system. Aaliyah's family subsequently filed a wrongful death lawsuit against the airline and settled out of court.
It will undoubtedly be a big role for teen star Zendaya to take on, but she is up for the challenge and happy to be a part of the project.
I have been an Aaliyah fan for my entire life… I auditioned like anyone else and I got cast in the part and I want it to be something that [the family] are proud of, and that she would be proud of… It's a Lifetime movie so it's just to honor her… My passion, my love for Aaliyah is so strong that I feel like I'm just gunna channel her and do my best to honor someone that I love so much and have taken so much from in my career.
The film has yet to begin production and Lifetime is still in the process of reaching out to the family. In the meantime, Zendaya is staying loyal to her roots with Disney. Her newest T.V. movie Zapped premiers this Friday at 8p.
When asked how she feels about other former Disney stars such as Miley Cyrus straying so far from where they started, Zendaya spoke respectfully of the Hannah Montana star's ability to put herself out there as she does. "Everyone has their own career path and their own destiny" she stated, "I admire the fact that she's so confident in her skin to be able to do that because not a lot of people can do that, go out there and say this is me and just take whatever comes along with that".
Zendaya was, however, sure to point out her path would not mirror Miley Cyrus's. "I'm obviously not going to be doing the same thing, you know, I have a different career path, I have a different personality, that's just not who I am". She continued, "But you have to respect everyone's version of growing up."
Zendaya is also a fresh fashion icon, so much so that she has had designers to reach out to her, and was even given the opportunity to be the new face of Madonna's junior fashion line. Zendaya spoke excitedly about this new chapter in her life and is looking forward to meeting the Pop-Queen in person one day soon. She also proudly noted that the fashion line is both trendy and affordable.
About her own style she described herself as Urban-Chic. She discussed how she and her stylist work together to take risks. "Being 17, I shouldn't be confined to a box… This is the time for me to experiment with fashion and try different styles so I might as well do it."