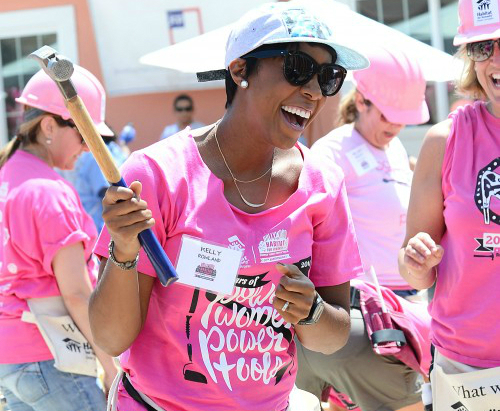 A pregnant Kelly Rowland excitedly swung her hammer in Compton, LA. this weekend – working with Habitat for Humanity.
The former Destiny's Child member only recently announced her pregnancy, but the baby bump couldn't even be hidden under a big pink T-shirt issued by the organization. It read "10 Years of Power Women Power Tools". Kelly sported it enthusiastically, as her eagerness pops in the many photos snapped of the singer throughout the day.
Habitat for Humanity was founded in 1976 with 5 mission principles: Demonstrate the Love of Jesus Christ, Focus on Shelter, Advocate for Affordable Housing, Promote Dignity and Hope, and Support Sustainable and Transformable Development. However, despite its roots in Christianity and religion, HFH also abides by a non-proselytizing policy which means those involved will never seek to convert those they help.
As an international organization, HFH builds homes all over the world and is subsequently always looking for volunteers. If you are looking to get involved, whether you want to volunteer locally or in other countries, there are many options available. To find out more, visit www.habitat.org.
Photos: Arthurlangphotography/Earl Gibson III/AApagency