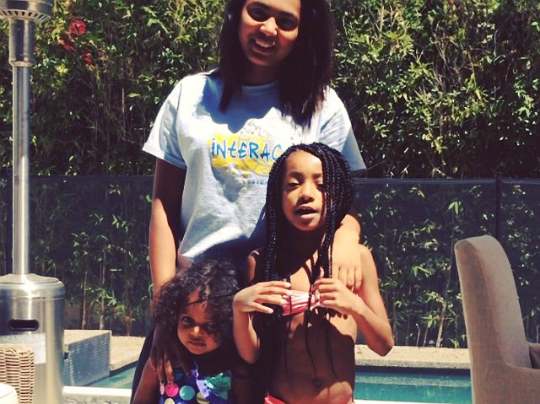 Melanie "Scary Spice" Brown, known for her special brand of honesty as a voice coach on The Voice Kids Australia, has said her children won't be following in her footsteps because they simply aren't great singers.
Daily Mail reports that when asked if she's be happy to see them pursue music careers she responded, "If they were really good at singing I wouldn't have a problem but my kids can't sing that well. They'll sing [Disney's] Frozen but it's not like, oh my God they're incredible – they're just being kids". In other words, they are not the unusually remarkable talent she is regularly exposed to on set. Speaking about her experience with The Voice Kids, Melanie said, "They sound like fully fledged mature singers that have been in the business forever, it's really shocking. Then you turn around and the singer is like nine years old".
The T.V. personality who kick-started a career as a pop-music legend as one/fifth of the iconic girl group Spice Girls is now a busy mother of three. Her fist daughter, Phoenix, was born in 1999 while she was married to dancer Jimmy Gulzar. Her second, Iris, was fathered by actor Eddie Murphy in 2007. During her second pregnancy she began a relationship with her current husband, movie producer Stephen Belafonte. They now share a two-year old daughter, Madison (and a daughter from Belafonte's former relationship). Needless to say, talent courses through all three girls, so despite their lack of potential of music careers it seems there is a good chance they will soon find niches.
Meanwhile, Melanie is embracing a second wind of fame. She is presently hosting four T.V. shows; a morning show, The Voice Kids, America's Got Talent, and The X Factor UK. The star does not let her busy schedule get in the way of being a mother though, in fact, the children are often right at her side. "They come on set with me a lot, they love watching the show", Melanie says about her days spent coaching on The Voice Kids.
But wait, there's more. The former Spice Girl is back in the studio. "I just laid down my vocals on a track with a new producer," she has just revealed. Although she is an admitted workaholic, stating, "I love to work, I love to do the jobs and I don't do anything unless I do it 100%", she is also honest about not putting too much pressure on herself in the studio. Right now her approach is to try it out, and if it works it works. And if it doesn't – well, there's always hope for another Spice Reunion. The super-star exclaimed, "I would love it [a reunion]. I said it so much so that the Olympics (2012) happened, so I'm hoping the same thing happens!"

It seems for now Melanie will continue to split her time between continents – hosting, coaching, and singing – with her children happily tagging along.

Photos: Instagram