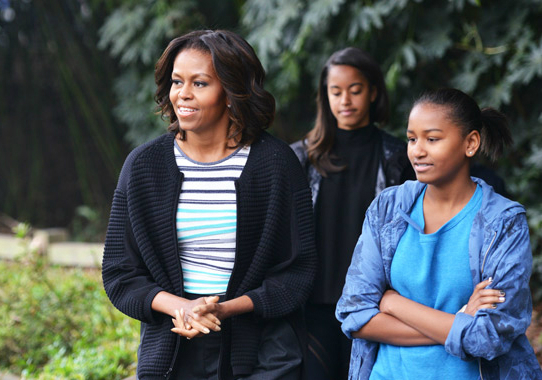 First Lady Michelle Obama recently took her fight to get healthier meals in American schools to a personal level. Opening up in an interview with MSN, Mrs. Obama admitted that despite being Princeton and Harvard educated, she did find herself struggling to keep her children healthy before moving into the White House. She was even told by a doctor that her children's health was at risk.
The issue she meant to address with the statement was that it is not only about being well-educated or well-informed; the issue is one of nationwide lifestyle. Moreover, the choices made for your child's diet in the home do not necessarily reflect their diet on the whole, as schools allow them to make their own unhealthy choices everyday.
The First Lady stated, "It is our job as adults to make sure that our kids eat what they need, not what they want," she said. "I struggle with that in my own life, and I tell you, if I let my kids dictate what we have for dinner every day, it would be French fries, chips, and candy, but we don't run our households like that, and we can't run our schools like that."
Her personal struggles with the matter led her to launch a mission against childhood obesity. "Before coming to the White House, I struggled, as a working parent with a traveling, busy husband, to figure out how to feed my kids healthy, and I didn't get it right," she admitted. The realization that all parents struggle with this led her to the conclusion that schools need to make better decisions as well. Her goal is to standardize healthy meals in the U.S. education system.
Mrs. Obama, with her candid statements, demonstrates the importance of taking responsibility in American health issues. Childhood obesity remains a collective problem, and therefore needs a collective solution. The First Lady suggested working with schools that have trouble with the subject of health, "What we need to do is lend a hand to the schools that are struggling, not roll back the standards and say, 'Oh, well. The kids don't like it so let them eat cake,'" she urged. "We can't afford to do that."